08-16,2010
Since I had a JAPONICA shop in 2003,
I used a lot of Akari style lighting for window decoration, shop display
and even for a special event decoration.
Ok -  I can not afford to have a real NOGUCHI's arty Akari Lamp or an antique beauty neither.
Why don't I create a customized Akari lamp?! - I am a calligrapher after all!
AKARI is the Japanese word, means light  / bright
originally meant the light of Sun and the light of Moon.
So the brightness ahould be rather organic.
One of my most favorites was a classic round formed paper lamp.
- there is also other classic or unique forms available.
You can get them from most of good light shops or  from Habitat, or Ikea.
A several sizes are available, and prices are very reasonable.
The tip is to choose the size that is not too big or low for your room space.
And use the soft, yellowish light bulb.
So you can unfold the lamp and build it up into the shape.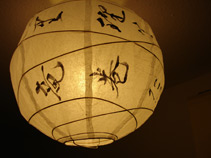 What I do is to write some special characters, poems or Haikus in between the bamboo lines.
Always better to use a real calligraphy ink and big brush.
You can choose several special characters which fits the space, or which you wish to feel in the room.
For example, characters like joy, laughter, harmony in living room-
dream, silence, relax in bed room- or you can write some messages for children's room.
Once I build a sculpture with 18 Akari lamp balls with small lights inside - looked nice.
I write some special characters, poems or Haikus with a real Calligraphy ink.
- I found the Gyosho style ( Semi- cursive ) or Sosho style ( cursive style ) fit better with the AKARI light.
They create more comfortable and softer ambient.
So put some candles on, and light an AKARI  in your room.
- you would be amazed how calm and relaxed you become-
関連記事
COMMENT FORM